Cicely Tyson
Featured Speaker
Date:
Sunday, January 24, 2021 12:30 PM - 1:00 PM CT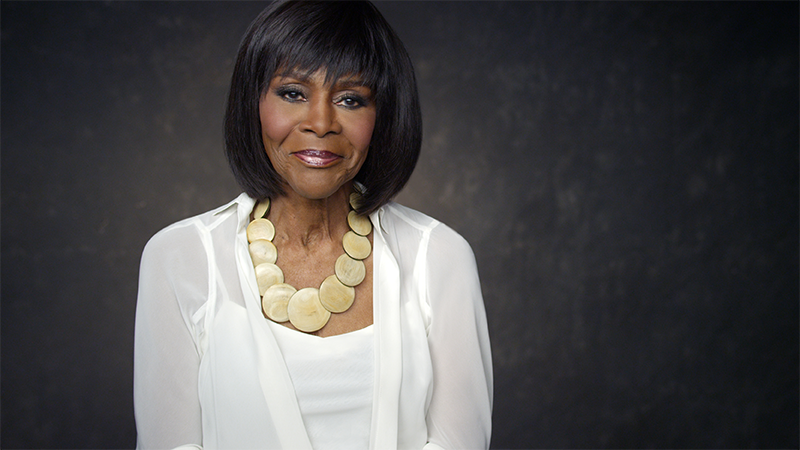 Cicely Tyson is an actress, lecturer, activist, and one of the most respected talents in American theater and film history. From her starring role on Broadway in The Blacks (1961) to the Emmy-nominated 1999 HBO film A Lesson Before Dying, her work has garnered critical and commercial applause for more than sixty years. Her two Emmys for The Autobiography of Miss Jane Pittman made her the first African-American woman to win an Emmy for Best Actress. In 2013, Ms. Tyson won the Tony Award for Best Actress in a Play for her performance in The Trip to Bountiful.
A capstone achievement came in 2018, when she became the first Black woman to receive an honorary Oscar.  The Board of Governors voted unanimously to honor her with the award, which came 45 years after her Academy Award–nominated performance in Sounder. In 1969, as a way to build on the legacy of slain civil rights leader Dr. Martin Luther King Jr., Tyson and Arthur Mitchell (the first African-American dancer with the New York City ballet) co-founded The Dance Theater of Harlem, now in its fiftieth year. In November 1996, The New Jersey Board of Education unanimously voted to change the name of a public middle and high school to the Cicely L. Tyson Community School of Performing and Fine Arts. The school, located in East Orange, New Jersey, has a student body of approximately 800 primarily underprivileged students. Tyson teaches a master class in acting and continues to be involved in many aspects of the students' education.
"At 95, I'm only beginning to fully understand my identity," says Tyson. "The accolades, the lights, the glamour and glitter—they're all just ornaments on a tree. It is only a tree's roots, its origins beneath the soil, that can reveal its entire story. Every one of my experiences on the public stage has been rooted in my upbringing, those years spent at my mother's elbow and in the pews of my church. That was my world. And that foundation, that core, led me to a lifetime of growth—a wondrous journey that has made me who I am."
Tyson's memoir, Just As I Am, available January 2021, will include poignant details of her decades-long deep friendship with Arthur Mitchell; her love affair and eight-year marriage to jazz legend Miles Davis; the memories made with an array of entertainers and luminaries, including Sidney Poitier, Aretha Franklin, Quincy Jones, Ossie and Ruby Davis, Richard Pryor, Maya Angelou, and Nelson and Winnie Mandela; recollections of some of the leading actresses of her day, including Marilyn Monroe, Elizabeth Taylor, and Jane Fonda; and her beloved friendships with artists such as Whoopi Goldberg, Oprah Winfrey, Tyler Perry, and Viola Davis. 
Tyson is the recipient of the NAACP's highest honor, the prestigious Spingarn Award and she was named a Kennedy Center honoree in 2015. The following year, President Barack Obama awarded her with the Presidential Medal of Freedom—the highest civilian honor in the nation.
Get details and add to your schedule.
Sponsor: