First Lady Jill Biden
Closing Session Speaker
Date:
Monday, January 25, 2021 11:15 AM - 12:00 PM CT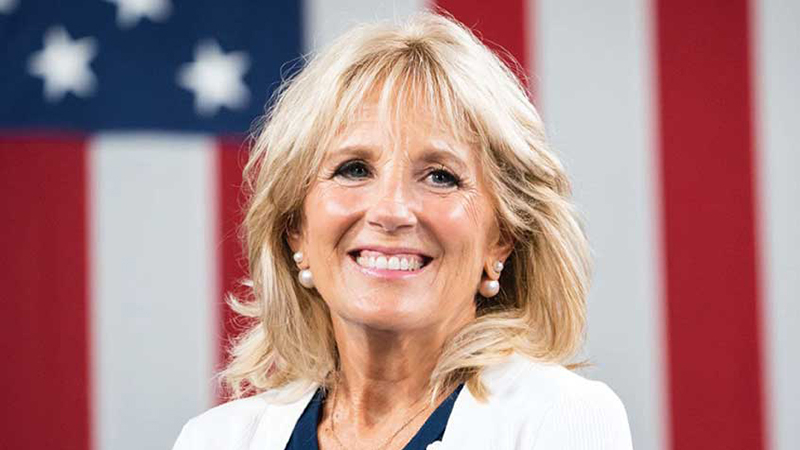 A conversation with First Lady Jill Biden and ALA President, Julius C. Jefferson, Jr.
ALA President, Julius C. Jefferson, Jr. will sit down with First Lady Jill Biden to discuss her work as a community college instructor and literacy advocate.
---
A lifelong educator, Dr. Biden served as Second Lady of the United States from 2009–2017. She will return to the White House alongside her husband President-elect Joe Biden to serve as First Lady of the United States on Jan. 20, 2021.
Over a long career, Dr. Biden has spent more than three decades teaching in community colleges, high schools, and a psychiatric hospital for adolescents. She has two master's degrees — both of which she earned while working and raising a family — and earned her doctorate in education from the University of Delaware in January of 2007. Her dissertation focused on maximizing student retention in community colleges.
As Dr. Biden often says, being a teacher isn't just what she does — it's who she is. She has worked to underscore the critical role of community colleges in creating the best, most educated workforce in the world. She hosted the first-ever White House Summit on Community Colleges with President Obama and led the Community College to Career Tour across the country to highlight industry partnerships between community colleges and employers. Today, she continues to teach at a community college in Northern Virginia, a position she held throughout her time in the White House.
"We are honored that Dr. Biden will be joining us at the American Library Association's Midwinter Meeting. Librarians are among her most ardent supporters, and I know that I speak for many when I say this conversation will be something they cherish for a long time," said ALA President Julius C. Jefferson, Jr. "Dr. Biden's profound commitment to education and her efforts to create pathways to enrichment are more important than ever. As our nation's students struggle with distant learning, maneuvering digital jungles, and grappling with digital literacy, we believe librarians and library workers have a critical role to play in supporting the needs of learners. From homework help to assisting adults with job-searches, our nation's library professionals will also take an active role in our nation's COVID-19 recovery. We are grateful for Dr. Biden's support and advocacy as we move forward in supporting and transforming lives through education and lifelong learning."
Dr. Biden is the author of several books, including Where the Light Enters: Building a Family, which was released in May of 2019, as well as a children's book, JOEY: The Story of Joe Biden, published by Simon & Schuster and released June 2020.
Dr. Biden also continues to serve as a prominent voice on the rights and welfare of women, girls, and people with disabilities, especially as related to education. During her first White House tenure, she traveled to nearly 40 countries, visiting almost every region of the world.
Get details and add to your schedule.